How to Install Theme in WordPress – Easy To Follow Guide For Beginners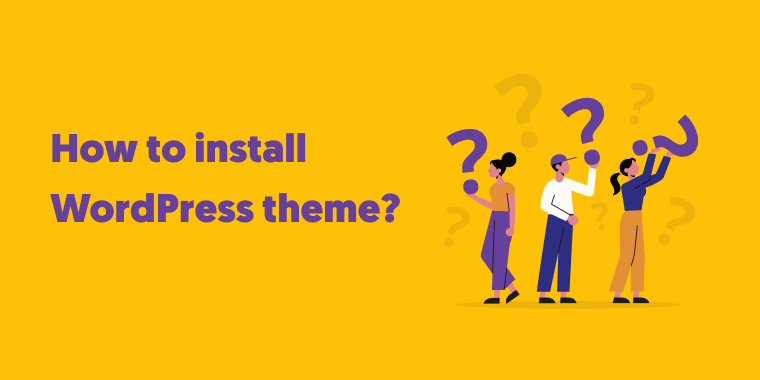 Now that you have a fancy domain name for your website and the hosting service, it's high time to learn how to install a theme in WordPress – the most important thing that will make your users love your site!
In order to install WordPress theme on your site, you must be signed in. Please go to https://yoursite.com/wp-admin and log in.
The very first page that you see after you are logged in is Dashboard (see screenshot below) that contains some information about your site and a few useful links.
It also gives you an option to create Quick Draft of a post and displays information about WordPress related News and Events. Nevertheless today we will give you some useful tips on how to install theme in wordpress. Let's go for it!
Table of Contents

Multiple ways to install WordPress themes
Introduction to WordPress dashboard
On the left side, you'll see the WordPress admin menu, which contains all the post types, settings, tools, and much more. The theme menu is located under the Appearance menu, in themes.
How to Install a Theme in WordPress: multiple ways of doing so
Now, the cool part is to come! When clicking on Themes, you'll see all the ones already installed on your website – Default WordPress installation usually comes with default WordPress themes (some hosting providers modify it to promote their themes!), developed by the same guys that develop the WordPress itself.
The latest theme developed by them was the Twenty Twenty (a curiosity for you: the default themes are named based on the year they are launched, such as Twenty Twenty, Twenty Nineteen, Twenty Eighteen, and so on).
Install your theme through the dashboard
The WordPress theme repository is filled with almost 7,500 themes that you can choose for your new super blog. You can navigate through a lot of them in the repository or you can choose them directly from your dashboard.
As an example, you'll install Yocto and you'll see how easy it is to set up a fresh new theme!
You can click on Add New on the top or on Add New Theme next to the other themes you already have.
As soon as you click to choose a new theme, you'll be sent to the theme directory on the WordPress dashboard. You can scroll the page to see different themes, you can click on them to test, try some of them. For this example, you'll search for Yocto and we'll install the new theme.
The process is simple:
Search the theme by its name
Click on Install
and then Activate it.
Simple like that!
In order to make it easier to follow the steps above, we've have added a gif below showing how to search, install, and activate a new theme.
Install WordPress theme by importing it
But what if you buy a theme from Humble Themes (or from someone else) and you receive a .zip file? How can you import it to my WordPress dashboard? Well, we are always here to help you!
In the Add New page you'll see a button on the top called Upload Theme.
As soon as you hit the button, the upload section will appear and you'll be able to select the theme .zip file. It's important to notice that it must be a Zip file, as the WordPress says: "If you have a theme in a .zip format, you may install it by uploading it here."
For example, we'll download Yocto theme from the WordPress repository and install it.
To get a new theme you should:
Click on Choose File
Find the downloaded theme on your computer
Select it and click Install Now button
Hit the activate button
We've also recorded a quick gif, so you can see how to do it!
Install your theme by manually uploading it
If you have FTP or (S)FTP access to your server you can also add your theme manually. Here are simple steps for doing so:
Connect to your server
Go to wp-content/themes/ folder
upload your theme manually from your desktop
Go to WordPress dashboard, click on Appearance > Themes and activate your theme
FAQ on How To Install Theme in WordPress
How to further customize your WordPress theme?
To do some further customisations to your theme you can use WordPress Customizer.

It's a standardised WordPress options panel that allows you to adjust theme layout without a need to have technical knowledge.

The coolest thing about WP Customizer is that it gives you a real-time preview of your changes.

You can access WordPress theme customizer by going to Appearance > Customize.
How can I change favicon?
You can change your favicon directly from the Customizer. Navigate to Appearance > Customize > Site identity
You will find a section that is called "Site Icon". That's where you need to put your jpg or png icon. It should be not smaller than 512×512 px in order to work.
How can I add custom CSS to override the theme's layout?
Adding custom CSS in WordPress is extremely easy and you can do it from Customizer. Just Navigate to Appearance > Customize > Additional CSS.
There you will find a field that has proper markup formatting and also gives you useful hints on what to write into the stylesheet.
CSS rules that you update should immediately be reflected on the preview that you see on your right-hand side (if you are not updating global CSS then you need to navigate to the specific page you apply CSS rules for).
Is there a limit of how many different WordPress themes I can install?
You can only have active one theme at a time, however, there is no limit about how many themes you can have installed.
For security reasons, we don't recommend you to have too many themes installed. If you do, please remember to always keep them up to date.
What is a child theme in WordPress?
A child theme in WordPress inherits the design and all functionality from the parent theme. It can be easily used to make modifications or add new features.
All customizations are kept separately from the parent themes. That means that if you update the version of parent theme you will keep your changes.
Premium or Free WordPress Themes – Which one I should use?
Are you starting your blog? Do you have a limited budget? If so then you can easily start with a flexible free theme.
We recommend picking a quality premium theme if you can afford to spend a bit of money. Quality premium themes (like Salzburg Pro) come with more features and priority support. This is very useful especially for beginners they don't have to deal with all technicalities.
How do I choose the best theme for my blog?
(Not only) in the beginning, we recommend to keep it simple. What's important on your blog is what you have to say.
Your theme layout should be clean and tidy. It shouldn't distract your user from reading the content. See our recommendations on which criteria you should use for choosing a perfect WordPress theme.
And that's all!
And that's all, folks! Now you know how to install a theme in WordPress dashboard from the repository or from a third-party service! If you have any doubts, do not hesitate to add a comment here and we'll quickly get back to you!
PS. We wrote a great article about WordPress plugin installation. Please don't forget to check it out :)
You may also be interested in: