WordPress Post Creation with Gutenberg – Easy To Follow Guide For Beginners
We all know that there are hundreds of page builders in the WordPress ecosystem, and all of them working in different ways and providing different tools for enabling users to create sites the way they like.
Back in the past, a WordPress user offered a new proposal: what if we create a system of blocks, so we allow people to generate the page in the way they like it?
Then, in June 2017, the first version of Gutenberg was released.
According to the Gutenberg creators, "Gutenberg" is a codename for a whole new paradigm in WordPress site building and publishing, that aims to revolutionize the entire publishing experience as much as Gutenberg did the printed word.
They also say: "The block editor introduces a modular approach to pages and posts: each piece of content in the editor, from a paragraph to an image gallery to a headline, is its own block. And just like physical blocks, WordPress blocks can be added, arranged, and rearranged, allowing WordPress users to create media-rich pages in a visually intuitive way — and without workarounds like shortcodes or custom HTML."
After reading this history, it's time to see how we can do a post creation using Gutenberg!
Table of Contents
Creating a new post
If you are not sure about how to create a post, you can access your admin dashboard and, on the left side, there will be the administrative menu. Then, you can click on Posts and you'll be sent to the All Posts page.
On this page you'll be able to see all the posts you have on your website and you'll be able to create a new one. To do so, you can click on Add New on the top left of this page.
If you want to simply add a new post, you can also hover over the Posts menu and click on Add New:
Post Creation
After clicking on Add New, you should be now on the post editing page, where you'll write your awesome content to make your blog shine across the skies.
If you are used to the Classic Editor, this page is a bit different. It was redesigned by the volunteers of the WordPress team and, although the items of the post editing page are mostly in the same place as before, they are now repaginated and looking much better!
How does it work?
Add Title
The Add Title field is the name of the post or page that you are creating. It's the same field we had in the Classic Editor where you added the name of the post.
Also, you need to check the URL for this, you can click on it and the URL will be displayed (this will be created after you save draft OR publish the post).
Document
On the right side, there will be a tab called Document. In this tab you'll be able to set all the configurations for your new post, such as:
Status & visibility
Permalink
Categories
Tags
Featured Image
Excerpt
Discussion
Block
This is much related to what is new in the post editing page. Do you remember we have told above that creating a post works with block editing?
A block is a piece of content on your page. For example, a paragraph, an image, a list, a heading, a gallery, all of them can be a block on the new editor.
So, let's say you want to create a paragraph, right?
There should be a "Start writing or type / to choose a block". If you just want to write, go ahead and start typing. If you want to select another block, you can type / or click on the + signal on your editing post page, where you can click to select a new block:
As an example, lets's say you created a paragraph block. So, on the right side, when you click on Block, there will be paragraph settings, such as:
Preset size
An option to have a large initial letter
Color Settings
Advanced tab (you can add CSS classes here)
These options will be different for each block, so you need to check which option makes sense for your website!
The fun fact of blocks is that many plugins have their own blocks with own settings, so if you install a plugin that has blocks enabled, you can also use it.
FAQ on Creating Posts with Gutenberg
Is there a way to disable Gutenberg?
If you need to disable Gutenberg, you'll need to have the Classic Editor plugin installed. After that, you can click on Settings > Writing and there will be two options to disable Gutenberg.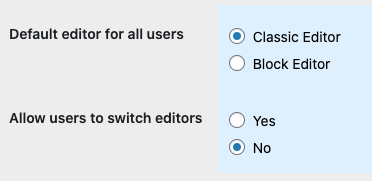 Is it better than the Classic Editor?
Well, it's a matter of liking, but bear in mind that the Classic Editor will be discontinued in 2021, so you'll be forced to use Gutenberg.
It's a nice project that has been being developed for years – and it has been being one of the most active projects inside the WordPress community.
How do I know if a plugin has a Gutenberg Block?
For now we do not have a badge like "Gutenberg compatible", so you'll need to install a plugin to check it. Some of them already have in the description that they are using Gutenberg blocks, so you can see it before installing the plugin.
Why did WordPress change the editor?
For a long time, the WordPress community felt that the editor was too outdated and decided that it was time to use the latest technologies available to build something new.
That's why Gutenberg was created.
And that's all!
Yay! Now you know how to create a post with WordPress and Gutenberg, enjoying all the latest tools and features available for your blog.
We hope you enjoy this post and can use this functionality on your blog to reach the stars!
We'll be creating a few other posts about Gutenberg, teaching you how to use 100% of it. Stay tuned!