Best Software for Knowledge Base Compared (2022 Guide)
If you are here because you are looking for the right Software for Knowledge Base solution then you can be relieved because you are in a good place.
We know that with so many options on the market it's easy to get confused. We also know that it's really hard to pick the one that will fit your needs and be future proof.
Regardless of whether you are a startup, a small company or well-established corporation our comparison will help you to find out which solution may be best for your business.
Ready? Let's crush this.
Table of Contents
What is a Knowledge Base?
What is the very first thing you think of when you think about customer support? Replying to client's emails? Answering tickets in your CMS? Answering phone calls?
Well, it's a bit of everything. And now imagine that you could limit the number of emails, tickets or phone calls. All that just because your customers can solve most of the issues they have on their own. Sounds pretty neat right? That's where Knowledge Base comes in.
A knowledge base is a repository where you can keep your information. An online library that stores all your valuable knowledge. It's curated and organized data about a specific topic.
It can be an explanation of the way your product works or solution to commonly asked questions. It may collect all corporation policies, contain beneficial bureaucracy or describe the onboarding process in your company. Simply speaking it could be any kind of instructional resource.
Do I need a Knowledge Base?
Yes, you do.
Let's face it. In 2020 looking for answers in search engine like Google is our second nature. That's what we do if we don't know the solution to our problem. And that's what your clients will do when they need one.
There's more on top of that. Here are some facts: Around the globe, 96% of consumers say customer service is an important factor in their choice of loyalty to a brand.
80% of consumers say they have already made a choice to support a company that delivers great customer service
As you can see on the above examples having a Knowledge Base can only benefit your company.
But it's not all.
Having a Knowledge Base that answers the commonly asked questions can really boost your SEO. That means more traffic. That, on the other hand, means a chance for more conversions and more potential clients.
It's simply a win-win relationship.
Main Features of an Effective Knowledge Base
Let's stop for a second.
Before we start comparing and selecting the right knowledge base for you, we should think about what perfect knowledge base consists of. What makes Knowledge Base efficient? what makes it work for your clients
There are some features and functionalities we think every Knowledge Base should have:
Top Notch Search Function
These days everyone wants their information as quickly as possible. Using a search tool is the first thing your customers will do to find information about your product.
This is exactly the reason why your Knowledge Base needs to deliver answers fast. Ideally it needs to deliver some suggestions while the user is typing his query.
And it's not only the fast response time that matters. Search results should be relevant to the query. It should predict what the user is about to type.
Insightful Analytics & Wise Reports
Who masters the data will rule the World.
Your Knowledge Base not only should have the search functionality, but it also should give you valuable insights about what people were looking for.
Only if you have the data you can understand your customers. See how they interact with your Knowledge Base. See which articles help your visitors the most and what kind of content you are missing.
Intuitive Dashboard
We all know that your customers are precious, but your (or your employees) time and experience matters too! Just imagine how much time you will spend on writing content. Hours? Days? Months? Definitely loads of time.
That's why your experience needs to be seamless. Easy to navigate and intuitive dashboard. Distraction-free writing/editing tool. Easiness to add new features. All of that will help you to create better content. Faster.
User feedback
There's a no better idea to improve documentation than getting feedback directly from the target audience. Having valuable feedback from your users can help you to find your worst performing articles.
When you see a lot of dislikes for an article you will know that it's a high time to improve it.
Additionally, if users can write a short comment describing what they are missing or why they didn't like the article that's even better for you. They will give you directions on how you can make the article better.
Fast loading time
Even if you have the best content out there your users won't stay with you for long if they need endlessly wait for a page to show.
In fact, they will start leaving your site if the page doesn't load in 3 seconds.
If page loading time goes from 1s to 5s the probability of people leaving it increases up to 90%
Yeah, it's just a few seconds, but people are impatient these days.
The faster the better, that's why killer loading speed is a very important factor on this list.
SEO
We already mentioned fast loading time that is a relevant factor in Google rankings.
There are around 200 more factors that are important too. And all of them translate into your page position in the search engine.
Having great, SEO optimised content is one thing.
Having a website that will help your SEO instead of breaking it is a different story.
SEO Friendly URLs, Correct Heading structure, optimised images – it's something you should treat as a standard.
Backups
There are two kinds of people: those who backup, and those who have never lost all their data.
You should always be prepared for the worst scenario.
Imagine that by unfortunate series of accidents you lost all the work that you have been working for last… week? month? maybe a year?
Pretty frustrating right? This is why backups are important.
Now imagine that you have nothing to worry about and you can restore everything with one click of a button.
Version control
This feature is especially helpful for larger teams.
An ability to never lose a previous article version and have access to the full history of the article is something really handy.
If you publish wrong or draft version of the article and can easily roll back to the correct version.
Or you simply want to compare two different versions and see what has changed. The version control is something your tool should have.
Easily Managable Categories
Last but not least – your information architecture.
Having great articles that have no hierarchy can get your users confused.
That's why organising your articles into categories should be one of the priorities for your Knowledge Base.
It just makes the customer experience even better.
Software for Knowledge Base – which one is the best?
1. WordPress
WordPress is a Publishing Platform and CMS (Content Management System). It's an Open Source and free software that allows you to create a blog, websites and apps.
It's a tool that will allow you to manage your content without a need for having programming skills. It makes is accessible to everyone, not only to developers.
What are the pros?
You are in charge. WordPress is a self-hosted solution, this means that you can do anything you want with your site. The only limitation is your creativity.
Fully Extendable. You can easily customise your site layout by simply changing a WordPress theme. You can easily add functionality by installing a plugin.
Ease of use. WordPress has a very intuitive, user-friendly interface. Gutenberg, an interactive rich content editor is a cherry on the top of the cake. It makes your editor experience even smoother.
Cost-effective. It's much cheaper than a SaaS software available on the market and delivers the same features.
Extremely easy to install. Have you heard about the famous 5 minutes installation? Now you did! Getting up and running with WordPress is super easy and it won't take your time.
Perfect for Multilingual Content. You can add as many languages as you need with one of many translation plugins.
Unlimited team members. Just add as many as you want. Seriously!
What are the cons?
You are in charge. We already mentioned that it's a self-hosted solution. The downside of that is that there are things (such as backups) you will need to take care of by your own.
How do I start?
First of all, you need to pick the right Knowledge Base theme.

We highly recommend a KnowAll WordPress theme as in our opinion it's the best way to set up efficient and effective Knowledge Base solution. (However, if you'd like to explore your options you can check out our post where we compared Best Knowledge Base Themes).
Next thing in the queue is picking a hosting.
If you don't know which one to choose, we highly recommend Blue Host. It's officially recommended host by WordPress and it has the best price/quality ratio.
Once you have all of that you can follow our guide: 'how to start a blog' that will guide you step-by-step by every process of setting up a WordPress site.
What are the costs?
KnowAll Theme: $149

Server (optional): Blue host offers a great solution for as low as $59,40 per year (about $4.95 per month).

Domain(optional): Around $10 per year. Total: $218,40 per year (or $18.2 monthly)
Total: 218,40 per year (or $18.2 monthly)
2. Helpjuice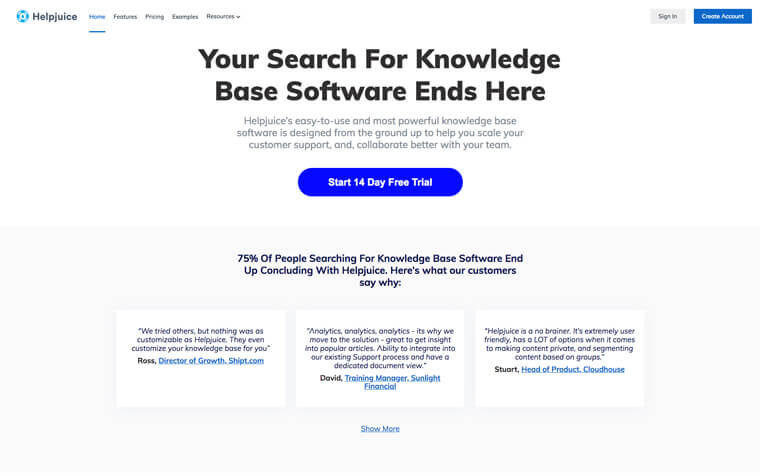 When we talk about software for Knowledge Base we can't miss Helpjuice.
It's a cloud-based Knowledge Base software. One of the leading on the market. Their services are used by more than 130,000 users including Amazon, WHO, Hertz and Virgin Mobile.
It's very simple to get up and running and in fact, you can set up your knowledge base in seconds.
What are the pros?
One of the industry leaders, so you can count on the highest quality
Easy to use interface. Quick and really nice onboarding experience. It's really easy to navigate through and find the bits you are looking for. The article creation process with an easy way to structure the content is seamless too.
Unbelievably Customizable. You can choose from many different themes and ask for free expert customisation too.
Intelligent Analytics, that offers you access to a variety of charts and graphs. You can see which articles are people reading the most, measure article's impact thanks to the review system and obviously, see what people are searching for.
What are the cons?
Quite pricy. Probably won't be a good fit for a startup or small businesses.
Lack of custom extensions. Your choice is limited if you compare it to WordPress. You can't add custom functionality. You also can't go beyond the default 3rd party app integrations ( such as Slack, Salesforce, Zapier and Olark chat.)
What are the costs?
Helpjuice plans start with $1440 per year ($120 per month) but they offer seats for up to 4 users.
If you want to go with unlimited user access then you need to be prepared for $6000 a year ($500 per month).
3. HelpCrunch
HelpCrunch is a customer service tool that offers you many solutions in one product.
It consists not only of knowledge base solution but also ticketing system, email marketing and live chat integration.
It's a nice and simple solution for small companies and startups that want to improve their customer experience.
What are the pros?
Advanced reporting. A set of tools like Failed Search Queries or User Reactions that will allow you to optimize your content
Customizable Design. Quite flexible options for customizing the appearance of your site. You can not only add your own logo and images but also adjust the layout to match your brand colour. It also allows you to include custom CSS and even JS.
Customizable SEO settings making your pages Search engines friendly.
What are the cons?
WYSIWYG editor. It was a good solution a few years back. These days the standard is drag and drop, visual, rich content editor (like WordPress's Gutenberg)
Each team member generates extra costs.
Lack of multilanguage support
What are the costs?
The most popular plan costs $300 per year (which is $25 per month).
The cheaper one with limited functionality is 180$ per year ($15 per month). But it's suited for one user only, so when you want to add yet another team member you need to double the price.
If you decide to pay annually you can count on a 20% discount.
4. Zendesk
Zendesk is one of the first customer service solutions on the market. It's much more than just a Knowledge Base solution.
Zendesk offers you a complete customer support toolset [(that includes functionality such as customer support platform and ticketing systems).
In this article though we will focus only on 'Zendesk Guide' service as it's the Zendesk's smart Knowledge Base solution.
It's described as 'more than just a collection of articles'. Let's see what else it offers.
What are the pros?
Custom themes. You can customise the look and feel of your knowledge base. Zendesk also allows adding custom HTML, CSS or JavaScript for more complex solutions
Control access. You may open your KB to the public, require user's registration or set up a few articles to be visible for your agents only
Multilanguage support. You can create content in 40+ languages
Advanced analytics. Option for integrating Google Analytics. Ability to see which articles help to solve most tickets and find your blind spots by tracking failed search queries.,
What are the cons?
limited WYSIWYG editor. It's neither practical nor modern.
Quite complex. It requires a lot of time to get familiar with the platform
What are the costs?
There's a free plan that you can start with to test the Knowledge Base feature, but it is quite limited.
If you go with a monthly subscription you will pay $228 per year per user.
With an annual subscription, the price shrinks to $180 per year per user.
If you need advanced features like Answer bot and AI-powered replies then the plan starts at $456 per year per user ($38 per month).
5. Document360
Document360 is a Knowledge Base Software that has an ability to scale with your product. It has been used by top companies like Microsoft, Monday.com or Harvard university.
What are the pros?
Markdown text editor. The minimal, simple, distraction-free and efficient feature that allows focusing on what the content and add it quickly.
Many knowledge bases support, that allows for creating both an internal and external knowledge base.
Bulk operation manager – Moving, deleting, hiding, filtering content can be done much faster.
Support for internal team discussion and different roles
What are the cons?
Limited 3rd party integrations (basically a few like Google Analytics, Disqus, Olark)
What are the costs?
With monthly payments, you can buy the startup plan for $588 per year, but it comes with 2 seats.
If your team need to have between 15 – 30 seats you need to prepare for $5988 per year.
You can save up to 20% when you agree for annual billing.
6. ProProfs
ProProfs is a general Knowledge Management software that offers various functionality.
You can create quizzes, tests, training, flashcards and – of course – a knowledge base.
It tends to create Help Sites, User Guides, Wikis and Manuals.
ProProfs is very easy to start with. Especially that they offer a 15 days free trial period, so it makes it really easy to set up an account and get familiar with the platform.
What are the pros?
Availability to translate your content to 60+ languages
Custom domain name – you can display your knowledge base under your own domain
Handy integrations (that include: Zendesk, Salesforce, Wufoo, Freshdesk and some live chats)
Free version that allows you to create up to 20 pages
Extraordinary pricing scheme, where you pay for pages you create
What are the cons?
Text editor looks like it is a bit old-fashioned
Pricing scheme – as it's a good thing for smaller companies, it may be pricy when it grows (ie $1800 for 500 pages)
There's no place for advanced customization
What are the costs?
It looks like ProProfs is a service that can fit any type of business. You if have a small knowledge base you can start with a free plan.
If you want to add more pages then you obviously can jump on a higher plan. The pricing is pretty extraordinary because in contrast to other SaaS platforms you pay for what you use.
You can create an extra page for $0.30 per page. On the other hand, if you want more features like a private knowledge base or white-labelling you will need to pay $0.50 per extra.
Conclusion (which software for knowledge base is the best?)
It's really hard to say which solution is the best for your business. They all have their upsides and downsides and you know which features are essential for your project and which ones you can do without.
For small businesses and startups, we definitely recommend a WordPress solution. It's cost-effective and extremely flexible in the first place. You can start with a small knowledge base and scale it while your company grows. You can also have an unlimited number of people editing your knowledge base without any extra costs.

For medium, to large companies, we still recommend WordPress based solution as you may still like the flexibility and easiness of adding new features. It's worth to notice that the price won't grow while you add more people to deal with your knowledge base.
For corporations and enterprise businesses that requirements reach beyond a knowledge base and they need the full suite of functionalities we highly recommend HelpJuice because of their modern approach and top-notch quality.
FAQ on Software for Knowledge Base
What's the best knowledge base software for call centre?
All knowledge base software we mentioned in this article is multi-purpose.
All of them allow you to pick from many different predefined templates.
They also give you an option to apply your custom styling.
We highly recommend starting with requirements that your call centre's knowledge base may have and checking which solution will cover most of them.
How to write Knowledge Base articles?
Define your article purpose. Think about why your customers were searching for help and try to think about how you can help them out.
Your article should be both engaging and informative. You should use plain language and short sentences so it's clear and easy to understand.
If you have a lengthy content think how you can make it user friendly. Divide it into smaller sections and use headings. Or even think about creating a collection of shorter articles.
You may also be interested in: